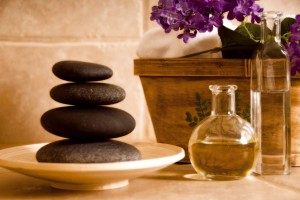 In traditional massage, different levels of pressure and movement are applied to the body's soft tissue — skin, muscles, tendons, ligaments, and fascia (membrane which surrounds the muscles). Though there are many specialized massage techniques being used today, the most widely practiced is Swedish massage. Swedish massage is built around five basic strokes – effleurage (gliding stroke), petrissage (kneading stroke), friction (steady pressure), tapotement (drumming), and vibration and jostling.
Some types of bodywork, such as Cranio-Sacral Therapy is more refined and works on an energetic level; it is an alternative to the more physical Swedish massage. But many other specialized techniques are easily blended into a Swedish massage. Most practitioners are cross trained in several techniques and will use them together with Swedish during a common treatment session.
To assist you in choosing the type of bodywork best appropriate for you, the most widely practiced massage modalities are defined below. It is not required, whereas it may be useful, for you to carefully understand the difference between all the massage modalities. What is most important is to be knowledgeable of your own goals in receiving massage. You can then interview many practitioners, asking them what approach they would use to address your specific goals. If you have a condition such as whiplash or tendinitis, ask directly if the practitioner is skilled working on this condition and how they would go about it. This is the best way to ensure you will get the right type of bodywork for you.
Swedish Massage – best known and most widely practiced approach to massage. It focuses on improving blood flow to the skin and muscle and removing muscle tension. Swedish provides generalized relaxation, improves circulation, lowers blood pressure, reduces stress and enhances one's overall state of health.
Deep Tissue and Trigger Point Therapy – uses slow friction and deep finger pressure on body areas suffering from chronic muscle tension or areas that simply ache or feel contracted. This type of massage is useful for areas of hypertension, such as a stiff neck or sore shoulders. Deep tissue work works well in combination with traditional Swedish therapy.
Myofascial Release – All muscle is covered by a thin layer of tissue (fascia) that helps maintain body posture and provides support and strength for the muscles. Fascia can tighten or become stuck in places, constricting muscle and not allowing it to fully relax. With Myofascial Release, the practitioner gently stretched fascia along the direction of the muscle until the tissue releases and is fully elongated. The result of myofascial work is postural improvements and noticeable relaxation of cramped muscle groups.
Sports massage – Sports massage, geared at athletes and fitness enthusiasts, is more vigorous than other forms of massage. Sports massage is used to warm up muscle tissue, assist training, prevent injury, and aid healing in case of soreness or injury. It is used both before and after exercise, as well as in the treatment of sports injuries such as sprains, strains, or tendonitis.
Lymphatic Massage – A very light, gentle, repetitive stroke is used to stimulate the the activity of the lymphatic system where there is edema. Lymphatic massage is used to reduce swelling resulting from injury or post-surgery.
Hot Stone Massage – For these treatments, the therapist uses heated basalt mineral stones and/or semi-precious stones that represent the chakras. Muscle tension is released as the smooth stones move over the muscle. Heated Stone Massage is also thought to align subtle energies within the body for greater attunement and harmony.
Craniosacral Therapy [CST] – Craniosacral Therapy monitors the rhythm fluid that is continuously draining and refilling around our brain and spinal cord. By monitoring the craniosacral rhythm, the therapist discovers where healing is needed and corrects the sources of pain using extremely subtle manipulative techniques. CST is an extremely gentle hands-on technique that causes deep relaxation for the client.
There are as many types of massage as their are people. Massage as we use it in the USA is adapted from different parts of the world and applied to what we use today.
If you or anyone you know suffers from chronic pain and would like to attain a better quality of life, those in the Inland Empire region, please contact me today to book a session.