Join the Legging Army With Kimberly legging sales team.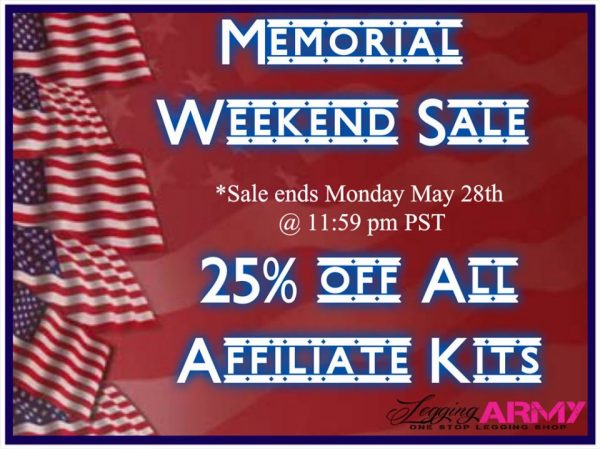 Be your own boss. Make your own hours. Make money wearing leggings.
See Details Below!
We are having a 3-day Affiliate Kit Sale, Saturday, May 26 starting at 12:00 A.M. PST (3 AM EST) and ending at 11:59 P.M. PST (2:59 AM EST on May 28).
The Kits prices are as follows:
Affiliate Software (back office) Only: $10.00
1 Legging kit + Software: $24.99
2 Legging Kit + Software: $34.99
Sweatshirt Kit (4 Leggings, sweatshirt, + Software): $85.00
($15.00 discount off each kit)
You must purchase your kit first; here! Once you do that come back to this page.
You will receive an email receipt of your kit purchase.
Copy the order # from that email to use in the signup form, linked in the image below.
My affiliate name is kae-leggingarmy. It is listed on the form for you to see.
Wait for corporate to review your signup and their email.
Once you receive their email follow their instructions to get set up. You can always contact me for any questions and assistance.
No code required, they will be discounted as the price on the site.
Click the image to access the signup form!
Be sure when you're enrolling; know that you will need to use a compatible email address for your Post Affiliate Pro accounts; which are the following:
Also, PayPal.Me links are not compatible with the payout system. We require PayPal email address only.
Questions? Contact me here: